Job Formulas
The productivity of paving or sealing 100 square feet is quite different than the productivity of paving or sealing 100,000 square feet and your estimating should reflect that. Give your sales staff the tools necesary to create acurate proposals in minutes. SaaSphalt's estimating system allows you to account for:
Travel Time
Production Rates
Materials
Set up / clean up time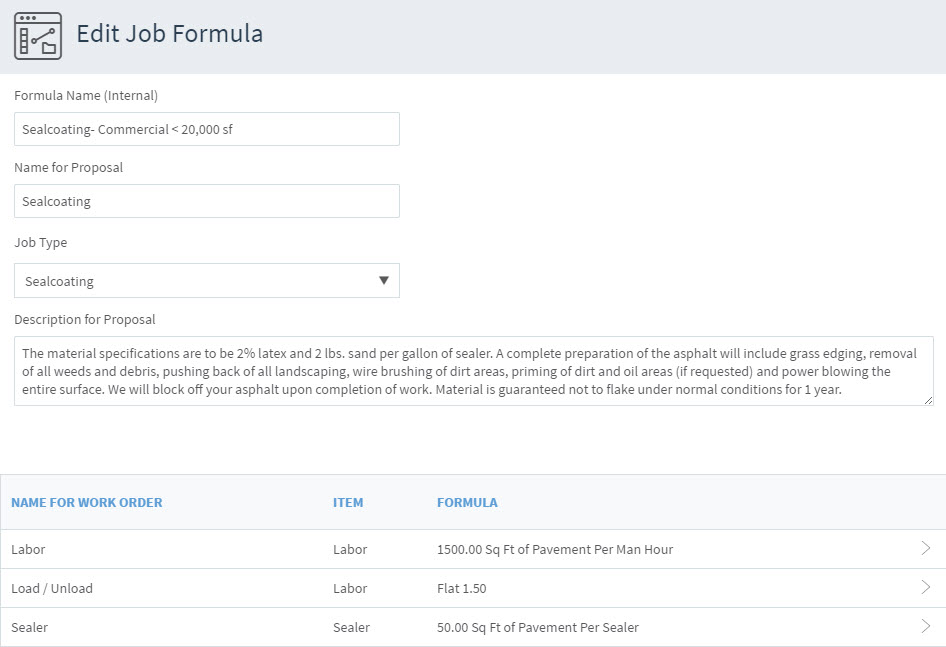 Store Property Measurements
Ever have a client call for an updated estimate a year after you gave them the original proposal? Find all the information on the original proposal in one location. Only remeasure areas that are necessary such as cracks and patching. Measurements are date coded because pavement area rarely changes from year to year, but potholes and cracks can grow tremendously from one year to the next. Store:
Pavement area(s)
Linear feet of cracks
Patching area(s)
Parking Stalls
Stencils
Professional Proposals
Choose from one of the many predesigned proposal templates or create your own from scratch. Include job site photos and maps in your proposals and let the pictures do the talking.
Work Order Conversion
With the optional Scheduling & Invoicing pack you can instantly convert all or part of the proposal into work orders. The work orders are created from the same information that was used to create the proposal so the work that is completed is the work that was promised.